Broadband

IDC
Cloud Service Info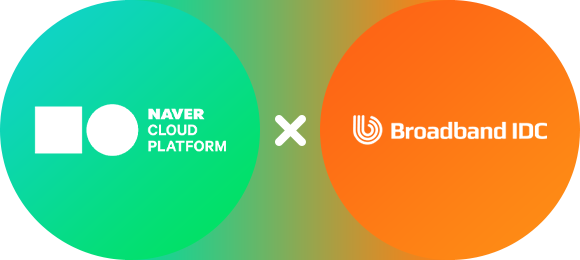 Naver Cloud Platform (VCP) is an IT service platform for successful global services such as Naver, Line, Band, Snow, and Webtoon. Broadband IDC is a Naver Cloud MSP partner, and it enables professional engineers with over 10 years of experience to utilize NCP such as NCP design, construction, operation, management, backup, fault handling, and security management.
Broadband

IDC
Unique Cloud Service Features.
World-proven Security Technology

We have obtained various international and Korean certifications on service stability and information protection. We fully protect your assets with strict security technology to prevent any incidents.
A Variety of Service Platform Technologies

Experience the btnefits of cloud services with service platform technology backed by service operation experience in a wide range of services, including NAVER and LINE.
Stable Infrastructure of the Largest IT Service in Korea

Our stable platform maintains operation in challenging situations.The data center is built to endure disasters, such as blackouts and earthquakes and the distributed data storage technology has a triple data backup process.
Easy and Simple Web Management Tools

Web-based management tools are designed for easy use and management for everyone.
Infrastructure of Top Global Quality

We provide optimum speed between global data centers, with dedicated lines and large-capacity services that are ensured for speed and stability through organic cooperation with major overseas Internet service providers.
24/7 User support

Our user center is operated 24/7 with experts and professional technicians for quick and accurate solution to user problems.
Certifications
NAVER Business Platform acquired the 'CSA STAR' certificate - the first in Korea - and is recognized around the world for its cloud technology.
With the 'CSAP' certification, NBP is qualified as a service provider for Korean public institutions.
Global Certification of Information Security Managerment System (ISO 27001)

Global Certification of Service Control Level Standards (SOC 1,2,3)

Global Certification of Security Controls for Cloud Services (ISO 27017)

Personal Information Management System (PIMS) Certification

Global Certification of Protection of Personally Identifiable information (ISO 27018)

Information Security Management System (ISMS) Certification

Global Certification of Cloud Control Level Standards (CSA STAR)

Cloud Compution Service Secrurity Authentication CSAP [IaaS, SaaS] Certification

Certification of Security Standards of Payment Card Industry (PCIDSS)

Global Cloud ISO/IEC 27799 Certification